Bellevue Secure Shred will find you a service provider that can send a secure mobile shredding truck to your home or office. It is the convenience of shredding at your curbside. Shredding trucks are totally self-contained and can operate without any outside power source. They will shred in an hour what it would take you a month to shred with a standard office shredder.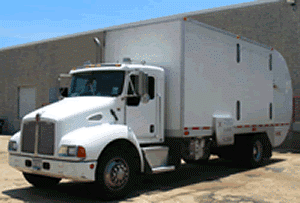 If you prefer to watch your documents being shredded then on-site mobile shredding solutions are for you.
The trucks shred up to 6,000 pounds an hour so most jobs only take a few minutes. In less than 15 minutes, the typical office shredding purge is done. The more you have, the more time you will save.
For regular service, free locked bins are placed around your office. Just drop in what you need to shred and the driver will do the rest.
The Mobile Shredding Process
STEP 1
Papers are collected and set aside or in a bin for regular service.
STEP 2
Materials are shredded into the compartment of a shred truck. You can witness this completely secure procedure if you wish.
STEP 3
A certificate of destruction is issued for the volume destroyed.
STEP 4
Shredded paper is compacted and sent to a paper mill for recycling.
Get Free Quotes on Mobile Shredding Services in Bellevue
For more information on mobile solutions from Bellevue Secure Shred, please request a free quote today or call us at (425) 605-5218.